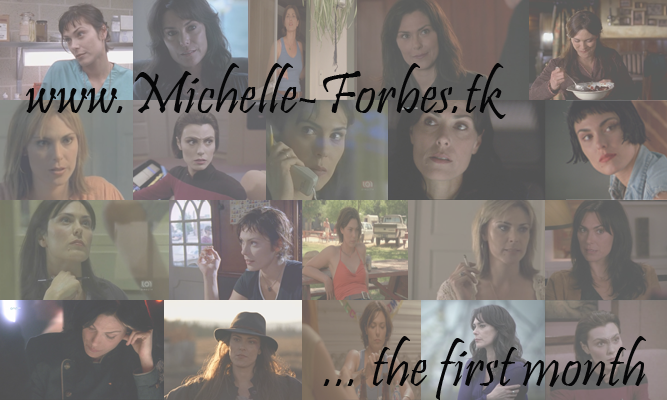 So, Today its been exactly one month since the insanity at www.michelle-forbes.tk began.
Of course you all know what happened, Nan and BartMan went to Milton Keynes and lost their frkking minds! Resulting in, michelle-forbes.tk J.
It's been a month now since the site went live and well I think we're doing pretty good! I'd like to use this opportunity to give an update on where we are!
Pictures: At the moment there are 1872 pictures uploaded in the photo folder!
Michelle Forbes [89]
Battlestar Galactica [157]
True Blood [170]
Homicide: Life on the Streets [280]
Series [746]
-> Star Trek TNG [90]
-> Alias [27]
-> Prison Break [59]
-> Durham County [292]
-> Wonderland [149]
-> In Treatment [129]
Movies [337]
-> Swimming with Sharks [32]
-> American Girl [102]
-> Kalifornia [87]
-> Johnson County War [74]
-> Escape from L.A. [28]
-> Dandelion [14]
Fanart [93]
For the Fanart I would like to thank bossladydewitt and meerkatlady for
sharing their work!
Blog:
The blog has not really been used yet apart from my crazy stories.
In the blog people can also put their music videos. I'm trying to create a database there for all Michelle related music videos. If you have music videos and you want to share, please post them thereJ
Forum: The forum is also looking good, we've got 10 members now but not everyone is posting yet. I wonder why, we're a nice bunch of insanity so get your asses over there and join our conversation. I will also use the forum to post links to external Michelle Forbes multimedia (interviews on other websites etc.).
Trouble: As always when you start a website, there can be trouble. I figured out that Internet explorer is not very happy with the portal. I don't know why. So if people have problems logging in, I would strongly advice using a different browser (firefox for example). If you have other questions/issues just send me an e-mail mf_website@live.nl
Upcoming: Well for starters many more screenshots. I've not even done half of the materials I own yet.. and 3 more dvd's are on their way from the states! Keep checking on a regular basis.
Special thanks: I have to take this moment to give a special thanks to meerkatlady. She's been an awesome moderator on Michelle-Forbes.tk and I think she deserves a special hand of applause!
And of course a little 'gift' from me


You can find it in the photoalbum
Or here -> Latest pics

So anyway, this was my little update. Happy one-month birthday to the website and I hope you guys enjoy it!